Master Instructor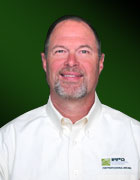 Bryan Pearson has 33 years of experience preparing professionals to make safe, effective decisions on and off the job. He is an engaging trainer known for delivering relevant instruction to audiences diverse in age and skill level.
In teaching vehicle operations, Mr. Pearson enhances classroom theory with actual scenarios—such as accident investigation analyses—to demonstrate the critical nature of policy adherence and flawless technique.
Prior to joining IAPD, He served as the Assistant Chief in charge of training for Central Pierce Fire & Rescue.  Mr. Pearson was a lead instructor for Pierce Counties All Hazard School program.   His experience as an incident prevention instructor and emergency medical technician made him a valuable teacher and mentor for members of FEMA task forces and fire departments throughout Washington. Notably, he was also a member of the Urban Search and Rescue Team deployed after the 1995 Oklahoma City bombing. Mr. Pearson's dedication to training is evident in his achievements, which include accreditations in hazardous material awareness, vehicle operation, vehicle incident prevention, and firefighting.
Mr. Pearson discovered his passion for training early in his career, earning a reputation for quality program creation, instruction, and logistics. Essential to his training philosophy is the belief that professionalism and skilled vehicle operation extends beyond the work environment. He has been a longtime board member for the Washington State Training, Safety, and Officers Section Board and was recently honored with an invitation to continue service. Mr. Pearson's commitment to safety amidst workplace demands makes him an ideal addition to the IAPD team.